London Heathrow Airport (LHR) is situated 22 km West of London, and it is the biggest and most important in the United Kingdom. It is third in the world for passenger traffic and first for International traffic.
Every year 67 million passengers fly from or to Heathrow, using as many as 90 airline fly to 180 different destinations The airlines that use Heathrow as their main hub are British Airways, BMI and Virgin Atlantic.
In 2008, after almost 20 years since first planned, Terminal 5 was officially opened as the biggest building in the United Kingdom. It cost £4 billion and it is mostly used for British Airways flights .
With 5 terminals, 48.000 m2 and an unbelievable number of shops and restaurants, Heathrow is a real city within the city.
Maps (PDF)
Terminal 1 Terminal 4
Terminal 2 Terminal 5
Terminal 3

Check our rates for transfers from and to Heathrow. For transfers from the city center to Heathrow airport, pickup time will be 3 hours before your flight's departure time.


London Heathrow Airport offers a wide variety of shops, bars and restaurants.
The most famous shops are Boots (pharmacy, health, beauty, everyday essentials), Clarks (shoes), WH Smith (books), Goldsmiths (jewelry), HMV (multimedia, music, video, videogames), Hamleys (toys), Harrod's (one of the most famous brands in London), Nike (sportswear), Vodafone (mobile phones), Lacoste (clothing), Swatch (watches), Timberland (shoes), Swarovski (jewelry), Cartier, Chanel, Bulgari, Dior, Gucci, Prada, Versace e Hugo Boss (fashion).
You can find bars such as Starbucks, Costa Coffee, Pret à manger, Marks & Spencer and Caffè Nero, but also many restaurants as Franky & Benny's Italian Restaraunt, or EAT, Seafood and Gafunkel's. There are also Japanese fast-foods Yo-sushi, Itsu and Wagamama.
In the immediate surroundings of London Heathrow Airport you can find accomodation at the Hilton London Heathrow Airport, just 5 minutes away from Terminal 4. But not far from the airport there are other hotels, such as the Holiday Inn London Heathrow, the Marriott London Heathrow, theNovotel London Heathrow, the Radisson London Heathrow and the Sheraton Skyline.
Each of the 5 terminals has its own Baggage Deposit (6 £ per baggage per day) and Information Desk, where you can ask info about timetables and much more.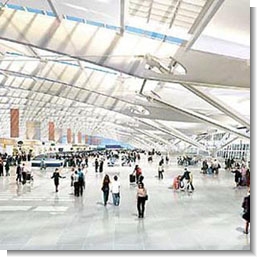 For any enquiry or for information you can contact us.
You can also contact Heathrow Airport here:
Heathrow Airport
234 Bath Road
Hayes
Middlesex
United Kingdom
UB3 5AP
Telephone: 0044 (0)870 000 0123
Fax: 0044 (0)20 8745 4290
E-mail: heathrow_feedback@baa.com