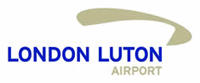 London Luton Airport (LTN) is situated 56 km North of London. It is an airport with almost totally European traffic, and it serves mainly low-cost Airlines as EasyJet, Ryanair, Wizz Air and Monarch. 10 million passengers pass through Luton every year, flying to around 110 destinations with 16 different Airlines.

Check our rates for transfers from and to Luton. For transfers from the city center to Luton airport, pickup time will be 3 hours before your flight's departure time.


London Luton Airport offers a wide variety of shops, bars and restaurants.
The most famous shops are Boots (pharmacy, health, beauty, everyday essentials), WH Smith (books), Gamegrid (videogames) e JD Sports (sportswear).
You can find bars such as Starbucks, Costa Coffee, Marks & Spencer and Pret à manger, but also many restaurants as EST Caffè Italian Restaurant, or The Real Food Company, The food village, or Yam yam to go. There is also a Burger King fast food.
In the immediate surroundings of London Luton Airport you can find accomodation at the Express by Holiday Inn Luton, few minutes away from the airport. But not far there are many other hotels, as the Thistle Hotel Luton.
Just outside the Arrival Gate you can find the Baggage Deposit and the Information Desk, where you can ask about timetables and much more.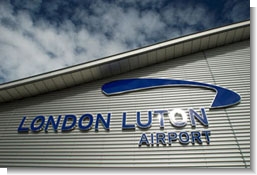 For any enquiry or for information you can contact us.
You can also contact Luton Airport here:
Luton Airport
Navigation House
Luton, Bedfordshire
United Kingdom
LU2 9LY
Telephone: 0044 (0)158 240 5100