London Stansted Airport (STN) is situated 48 km North-East of London and it is the airport preferred by low-cost companies, especially EasyJet and Ryanair, that use Stansted as their gate to London. With 10.000 m2 and 23 millions passengers per year, Stansted ranks as the 46th airport of the world, with 30 airline covering 160 destinations in 34 different countries.
Maps (PDF)
Stansted Terminal

Check our rates for transfers from and to Stansted. For transfers from the city center to Stansted airport, pickup time will be 3 hours before your flight's departure time.


London Stansted Airport offers a wide variety of shops, bars and restaurants.
The most famous shops are Boots (pharmacy, health, beauty, everyday essentials), Clarks (shoes), WH Smith (books), Goldsmiths (jewelry), HMV (multimedia, music, video, videogames), Hamleys (toys) e Hugo Boss (fashion).
You can find bars such as Costa Coffee, Pret à manger, and O'Neill's, but also many restaurants as Franky & Benny's and Ponti's Italian restaurants, or Seafood Bar.
In the immediate surroundings of London Stansted Airport you can find accomodation at the Hilton London Stansted Airport and at the Radisson SAS Stansted Airport.
The former can be reached by a shuttle service, the latter is within walking distance.
Just outside the Arrival Gate you can find the Baggage Deposit (4.50 £ up to 6 hours) and the Information Desk, where you can ask about timetables and much more.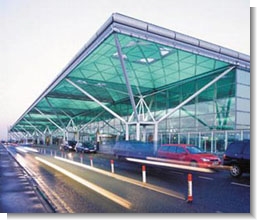 For any enquiry or for information you can contact us.
You can also contact Stansted Airport here:
Stansted Airport
Bassingbourn Road
Essex
United Kingdom
CM24 1QW
Telephone: 0044 (0)870 000 0303
Fax: 0044 (0)1279 662 066
E-mail: stansted_feedback@baa.com