Chaotic, vibrating, and kaleidoscopic, London is a global city, a megalopolis full of ideas, people and energy.
Built on the banks of the river Thames, London is the biggest and most important city in Europe. It is the centre of culture, fashion and world economy. Throughout its 2000 years of history, London has succeeded in absorbing all the multicultural influences that have come to the city, but without losing its typical British style.
No matter what the reason for your trip, its history, art, fashion, music, or nightlife, London won't let you get bored not even for a minute.
Download this free London guide (PDF)



HOW TO GET AROUND
TUBE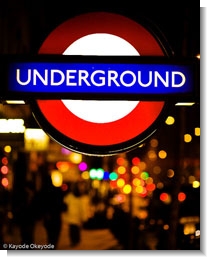 London Tube, the first underground railway system in the world, is the most comfortable and quickest way to get around London. Tube lines are easily recognizable by the colors and thanks to the maps distributed at every station. First trains in the morning run from 6 o'clock; and most of the lines close at around midnight or half hour past midnight. Tube rates vary depending on transit zones. For example city center is mostly covered by zones 1 and 2

BUSES
Buses are a slower way to get around London, but are often cheaper, and offer the possibility to see the city as you travel. Typical double-decker buses offer a privileged point of view in the pumping heart of London. If you need to travel from midnight to six o'clock, the best option is surely to take one of the many all-night buses that serve London.
TAXIS
Thousands of "black cabs" roam the crowded streets of London and make pair with the typical red buses to complete the public transports of London. But catching a cab, especially during rush hour can be a really hard task. Although it is the most expensive means of transport, and despite the efficiency of the Tube and buses, taking a cab will certainly be the right choice when you feel comfort is your priority, or if you just want to see what it feels like being inside a piece of London history.
TRAVEL PASS
If you are going to get around London by public transport, you will certainly need a Travel Card. You can find 3 days, weekly or monthly travel cards that let you save money and time. They can be bought at every tube station and also in many local shops. It can also be an e-card, and in this case it is called Oyster Card, a very useful pre-paid blue card, on which you can load as much money as you need. We usually advise you to bring ID pictures with you, since they could be needed to obtain the Pass.

CLIMATE
London's climate is unpredictable as in the rest of the United Kingdom. Summers are mild, with temperatures that vary from 11° to 25° C, while winters are usually cold, with temperatures from 4° to 11° C. Smog and fog are nowadays just a memory, but the typical "English rain", soft but always ready to fall, can suddenly surprise you at any period of the year. But don't worry, it will stop as quickly as it starts.

Check the weather in London!
CURRENCY
British pound (£) is the currency used in the United Kingdom. Euros and Dollars are usually not accepted, but you may find some shops which will accept them. There are many currency Exchange offices: some of them charge a fixed amount, some others keep a percentage for themselves. The best way to obtain British currency is without a doubt to withdraw money from cash machines available in the airports and the streets of London. Otherwise you can change money in your country before leaving, or at any bank in the United Kingdom once arrived.
CURRENT LOCAL TIME
London and the United Kingdom use GMT (Greenwich Meridian Time).
ELECTRICAL DEVICES
Electrical devices and plugs are different from others used around the world. So if you want to use your own gadgets, you need to buy a universal or UK adaptor. You can usually ask for adaptors at your hotel's reception desk, but you could be charged a deposit fee, returned when you leave.


London's attractions are so many, that planning a day in London can turn into a real headache. You simply have so much to choose from. Here we try and help you in this choice, suggesting a Top 10 list of things that you absolutely cannot miss when in London. But a Top 100 would be a better option…

LONDON EYE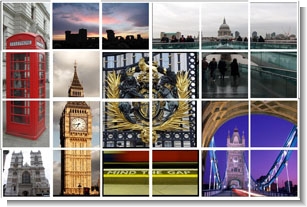 The London Eye, also known as Millennium Wheel, was opened in 2000, but it has quickly become one of the most iconic symbols of the London skyline. It is 135 meters high, the highest Ferris wheel in Europe, and until 2006 it was the biggest in the world. It attracts almost 4 million passengers every year and it is the most visited paid attraction in the United Kingdom. The view you can enjoy from the London Eye is breath-taking, taking in as many as 55 of London's famous buildings.
BRITISH MUSEUM
It is the most visited museum in the United Kingdom and it has one of the largest and most important classical art collections. It displays treasures and relics dating back to prehistory, which have come from every corner of the world. The highlights are Rosetta Stone and Parthenon Marbles. Every year 6 million visitors are thrilled by the British Museum. Entrance is free of charge.

NATIONAL GALLERY
This modern art museum houses paintings 1250 to 1900. The collection includes masterworks by Botticelli, Leonardo da Vinci, Rembrandt, Gainsborough, Turner, Cezanne and Van Gogh, and is without a doubt one of the largest and most important collections in the world, attracting 4 to 5 million visitors every year. Like the British Musuem, entrance to the National Gallery is free of charge.
ST PAUL'S CATHEDRAL
Christopher Wren's master work of the English Baroque is 108 m high and its dome is the second largest in the world, beside Rome Saint Peter's dome, that served as an inspiration. The view of the cathedral from the Millennium Bridge is something that will take your breath away.

BUCKINGHAM PALACE
Official residence of the Queen, Buckingham Palace is one of the most imposing and beloved buildings in London. Every other day (every day from April to June) at 11.30 am, the famous Changing of the Guard takes place: it is a must for every tourist in London.
BIG BEN E HOUSES OF PARLIAMENT
Westminster Palace includes the Clock Tower and the Parliament, and together they form one of the most recognizable views in London. "Big Ben" is just the name of the bell inside the Clock Tower . The Parliament building has around 1000 rooms, and the most famous of these are obviously the House of Lords and the House of Commons.
TOWER BRIDGE
One of the icons of the capital of the United Kingdom, and it is surely the most famous Thames bridge. Its name comes from the nearby Tower of London, and has two towers one of which houses an exhibition of the history of the bridge. It is a combined bascule and suspension bridge, which can open to allow ships to pass through.
TOWER OF LONDON
It is not just a fortress, but also a royal palace, a royal prison, and it was also the place where torture and executions took place. It is the home of the Crown Jewels of the United Kingdom since 1303. You can admire Saint Edward's Crown and the Imperial State Crown, with some of the most valuable diamonds in the world, the Cullinan and the Koh-i-noor.
WESTMINSTER ABBEY
Westminster Abbey is a gothic Church, where British Monarchs are crowned. But it is most of all a place where they and other illustrious people from all walks of life are buried. Thus you can find tombs not only of Kings and Queens, but also those of Isaac Newton, Charles Darwin and Charles Dickens here.
TATE MODERN
More than 5 million tourists every year visit this huge modern art museum, housed in an old power station on the banks of the Thames. Works from artists like Monet, Matisse, Rothko, Picasso, Lichtenstein and Warhol are exhibited here. As with all major museums in London, entrance here is also free of charge.
Other London attractions include MADAME TUSSAUDS, the famous wax museum; ROYAL PARKS, including Hyde Park, St. James's Park, Kensington Gardens and Regent's Park; the NATURAL HISTORY MUSEUM which displays a vast range of dinosaurs and up to 70 million other exhibits from the natural world; and the SCIENCE MUSEUM, the largest science museum in the world.
You can also visit other key places in London, as PICCADILLY CIRCUS with its neon signs and the world-famous statue of Eros; TRAFALGAR SQUARE with Nelson's column; LEICESTER SQUARE and the West End with its theatres and cinemas; COVENT GARDEN with its restaurants, shops, and street performers; ST. KATHARINE DOCKS, once a commercial dock, now a popular complex housing yachts, hotels, restaurants, shops and a famous pub housed in an old brewery. It is just a few minutes away from the Tower of London.


Visit London
Official London website for tourists. It is the most complete and updated website about the capital of the UK. You can find info on hotels, places to go, tours, museums, but most importantly you can find daily updates on the events taking place at the moment in London. Not to be missed.
Google Street View Lonon
Street View of London. It is an interactive map of the city, with the possibilità to browse in 3 dimensions the colourful London streets.
Lonely Planet
Webpage on London by the most famous travel guidebooks publisher in the world. It has practical info, advice on what to do and where to go in London.
Wikipedia - London
The free online encyclopedia webpage on London. Very useful for historical and cultural info, but also for lots of not-so-famous facts about London.
LondonByClick
360Cities.net
Browse virtually London most famous buildings and views. Preview what you are about to see in London, or relive those fantastic feelings again.
CamVista
EarthCam
Watch London live through these webcams situated in several different points in London. Live London 24/7 from your screen!