The experience you get with a metropolis like London can be disconcerting, especially if you find yourself roaming through the large and busy London airports. And the discomfort of taking your heavy baggage by public transport, makes it even more complicated and can turn your well-deserved holiday into a real nightmare. London Easy Transfers enables you to save time, stress and money. Professional drivers, registered at the Public Carriage Office (PCO), part of Transport of London, will welcome and lead you through the noisy London streets, making your first experience with the British Capital, a real success.
Getting a quotation and making a booking is really easy. Choose the details of your transfers below and get a quotation. In the following steps you will decide if you want to book the transfers, sending us your details. In less than 24 hours you will receive a booking confirmation, with all the details of your transfers, instructions and telephone numbers to contact our agents.


Choose your transfers and
get a quotation
Assess the quotation and
conditions for the transfers
Fill in your details and
send your booking request
| | | | | | |
| --- | --- | --- | --- | --- | --- |
| | Roundtrip transfers | | One way - Arrival | | One way - Departure |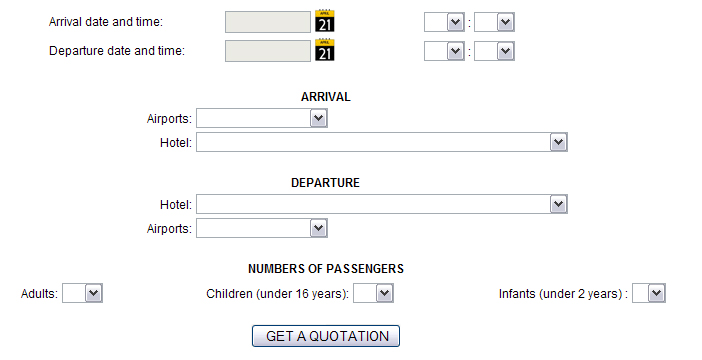 Please choose your transfers, in the next steps you will add all other details.
Transfers can be paid cash on arrival at destination, or prepaid by credit card Visa or Mastercard on our secure website
You are a travel agent or a Tour Operator? You can send your affiliation request here to become our partner and get a discount code to book transfers for your customers.





If you can not find your destination, ask us for a quote here


Read our Frequently Asked Questions or contact us to clear up all your doubts about our transfer services. You can do that by e-mail or by phone; you can also call our representatives in London, they will be more than happy to assist you.
Follow us on Facebook, Twitter, Google+ and Youtube: you will be updated bout current events and about Easy Transfers and its services. You will also have the chance to win prizes, join our contests and get discounts and promotional codes to travel with us.